Qvarnstrom / Quanstrom / Kvarnstrom / Quarnstrom Genealogy
A-1.I-1.II-7. Descendants of Bernard Justus Quanstrom
Back to Bernard Justus' Father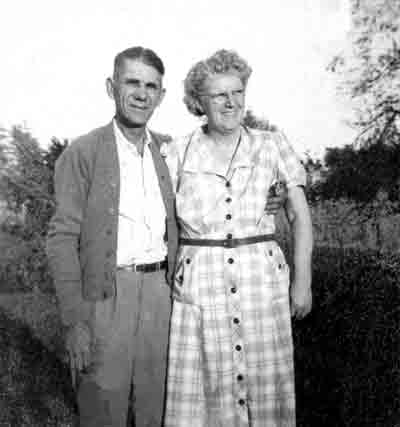 Bernard Justus and Helga Quanstrom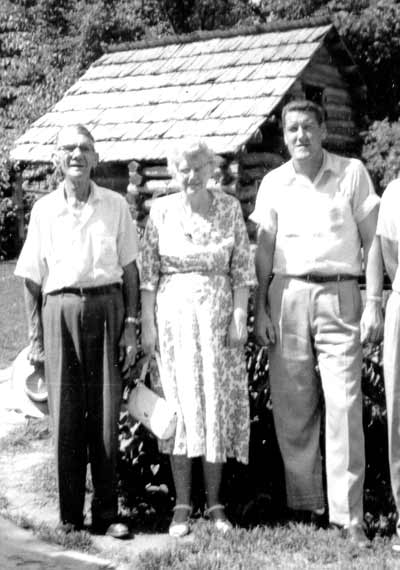 Bernard, Helga, and James Quanstrom in 1954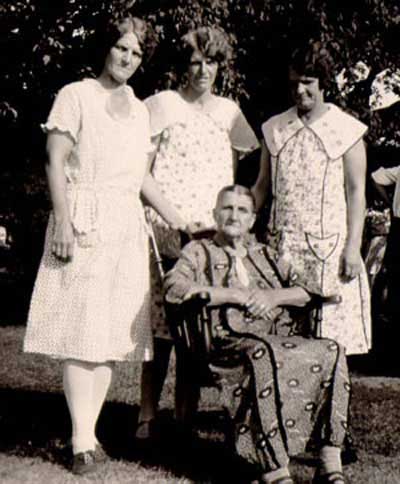 Lillian, Helga, and Augusta, with their mother, Augusta, seated.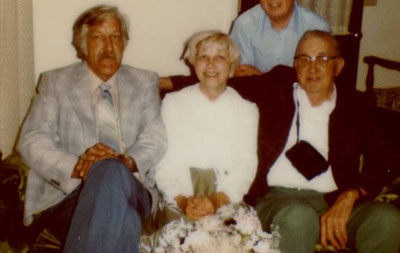 James Allen, June Irene, and Gerald Bernard Quanstrom
A-1.I-1.II-7. Bernard Justus Quanstrom was born 21 Feb. 1891 near Chicago, Illinois, Cook County, USA. On 03 Nov. 1915 in Galesburg, Illinois, he married Helga Dorothy Lundholm (sister of Lillian and Augusta, who married John Edward and Albin Wesley, respectively).

Helga was born 25 Jan. 1898 in Altona, Illinois to John Lenard Lundholm and Augusta Marie Peterson (or Asp). John was formerly John Lenard Anderson born 09 Sep. 1860 – the surname was changed when the couple came to the U.S. from Sweden and was the maiden name of John's mother. Augusta Marie was born 7 August 1856. It is believed that Augusta was illegitmate, born to Maria Charlotta Asp. Her wealthy father's parents wouldn't allow their son to marry Charlotta. Both Helga's parents were born in Svinhult Parish, Ostergotland Province, Sweden. They married in 14 March 1885 in Sweden. Helga's parents came to America on 25 March 1887 on the White Star Line. They came directly to Altona or Oneida, Illinois. Augusta was pregnant at the time.

Helga died 30 May 1968 and Bernard 20 Sep. 1971 in Altona, Illinois, USA. They are buried in Altona, Illinois. Their children are:

A-1.I-1.II-7.III-1. Gerald Bernard Quanstrom
married Gladys Ingrid Youngstrom
born 11 Mar 1916
died 16 Aug 1988 in Galva, Illinois, USA
A-1.I-1.II-7.III-2. June Irene Quanstrom
married George Christo Nickas
born 7 Feb. 1929
died 01 June 2020 in Galesburg, Illinois, USA
A-1.I-1.II-7.III-3. James Allen Quanstrom
married Pamela Lou Porter
born 5 Jan. 1932
died 29 July 2012 in Galesburg, Illinois, USA
This poem was written by Bernard on December 11, 1968, the year of Helga's death.
Thoughts At Christmas
The Lord laid a blanket of snow around our home.
That was the place where Mom and I roamed.
All is dark, no tree or lights,
No carolers singing Silent Night.
I and Mom used to have a tree and colored lights
And sit in the dark, calm and quiet,
Waiting for the carolers to sing Silent Night.
That was the time Mom and I cherished.
We pray to the Lord those times will not perish.
The Lord took her home; It was His will.
Now she's on the other side of yonder hill.
I feel that my Lord, who is my guide,
Will soon take me and lay me by her side.
Then we will be with the Lord up on high.
We will greet all the friends and relatives
And never say goodbye.
So give your soul up to Him before it's too late.
Other work can be done at a later date.
The following prayer was read at Helga's funeral by Reverend Kermit Peterson of the First United Presbyterian Church of Galesburg. It was a poem that Helga had kept.
A Prayer
For a Home of Happy Memories
by Josephine Robertson
Dear God, help me to make our home a place of happy memories. The days are so full from the time we wake in the morning until, tired out, we fall into bed, that each day seems like a collection of unrelated details. Help me realize that all these little parts, like the scraps of an old-fashioned quilt, add up to a lasting pattern.
I pray that in years to come the children will remember with pleasure the smell of hot cookies after school, the praise for lessons well learned, the special love for playful puppies and comfortable old cats, the little celebrations for special days, the courtesy of parents toward each other, the reverence for things spiritual.
May honesty, love, and integrity always be basic values in this home. Amen.